Fast & Free Shipping Within Malaysia
At Achlim customers get fast and free shipping on orders costing RM100 and up.

Shipping Rates
Peninsular Malaysia
Standard Shipping: 3 to 5 Business
Days

FREE:
Orders Above RM100
RM10.60: Orders Below RM100

East Malaysia
Standard Shipping: 3 to 5 Business
Days

FLAT RATE:
All Orders
RM31.80: Orders Below RM180

Where do we deliver?
We do delivering nationwide inside Malaysia.
For any purchasing from outside Malaysia, please do contact us through our email at sales@achlim.com (+6011 3983 9176 Wahtsapp) for shipment charges or chat with us on Achlim live chat and we will try our best to advise you accordingly before you proceed to check out.
Who are our shipping partners?
We do word with the below delivery services Pos laju, Airpak, Citylink, DHL or Aramex to deliver the products. The choice of courier service depends on the product weight and courier's availability. You will be updated accordingly via email notifications once the shipment has been made.
| | | | | |
| --- | --- | --- | --- | --- |
| Local Delivery | Local Delivery | Local Delivery | International delivery | International delivery |
| | | | | |

How do I track my order?
Once an order has shipped out, we will send you an email with the tracking number. Just click on the link and it will take you to the tracking page of Pos laju, Airpak, Citylink, DHL or Aramex . Alternatively you may log in to your account on Achlim to track the order parcel. For any other questions regarding shipment, kindly send us an email at sales@achlim.com and we will get back to you as soon as possible.
For other inquiries do not hesitate to contact us
For any other questions regarding shipment, kindly send us an email at sales@achlim.com and we will get back to you as soon as possible.
This offer is not applicable to e-goods and products with price lowered under RM100.
Olive Oil Cold-Pressed Extra Virgin | Achlim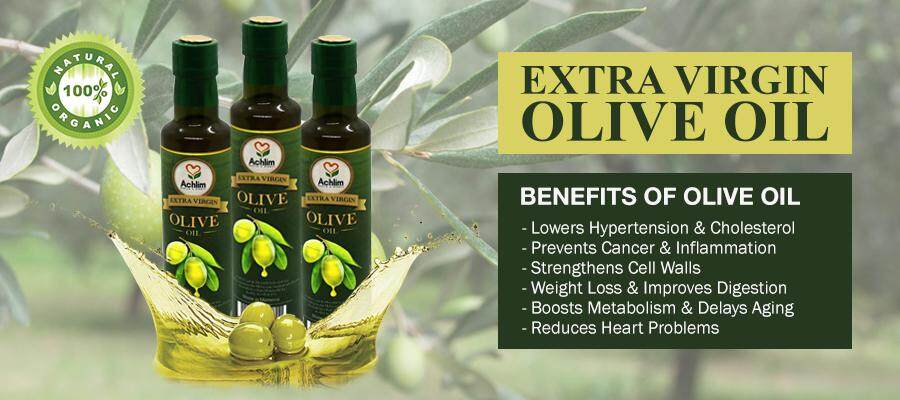 Extra Virgin Olive Oil: This is a much better variety and is made by cold pressing the olive fruit.

Olive oil, as we all know, is an essential fruit oil, which we get from the olive tree crop found mainly in the Mediterranean regions. It has been used by mankind for many centuries. It is utilized for cooking purposes, developing cosmetic products and soaps, for medicinal purposes, and as pharmaceutical supplements. It can also be used as fuel and for lighting lamps.

Olive Oil Nutrition
Rich in antioxidants, vitamin K, and vitamin E, olive oil boasts a very good nutritional profile. It has mono-saturated fats like oleic acid and palmitoleic acid, which constitutes 10g of the total fatty acid count of 14g in this oil. Olive oil is also free of carbs and cholesterol, thereby reducing the risk of heart diseases. The calorie count of this oil is similar to canola oil or butter, at around 120 calories in 1 tbsp of olive oil. Given to its amazing nutrition, olive oil has many health benefits, let us discuss them in detail below.
Health Benefits of Olive Oil
Olive oil has numerous beneficial qualities. Some of them are as follows:
Reduces Heart Problems
The natural olive oil contains 70% monounsaturated fatty acid. As a result, it lowers cholesterol accumulation in the blood and reduces heart problems.
Lowers Blood Cholesterol
LDL cholesterol is the bad type of cholesterol, which increases the risk of heart attacks and pulmonary heart diseases. Extra virgin olive oil, which is rich in almost 40 antioxidant chemicals, helps reduce the oxidation effects of LDL cholesterol. It also helps increase the HDL levels.
Weight Loss
Medical experts suggest that it is very difficult to gain weight from the mono-unsaturated fats present in olive oil. Research on Mediterranean olive oil has shown positive results with regards to a reduction in human body weight.
Boosts Metabolism
Olive oil boosts the metabolism, the growth of good bone structure, and brain development in children. It is an excellent source of vitamin E, which is very beneficial for older people.
Prevents Inflammation
Olive oil is rich in phenols that have anti-inflammatory and antimicrobial properties. As a result, its use helps inhibit the growth of pathogenic bacteria and relieve inflammation.
Improves Digestion
Olive oil is known to aid in the digestive process. It is used as a medicinal oil to clean the digestive tract and improve bowel movements.
Delays Aging
Rich in antioxidants, olive oil slows the natural aging process of the human body. Used in cosmetic products and natural herbal therapy, it does wonders for the skin by giving it a natural shine.
Prevents Gall Stones
Use of olive oil is also effective in preventing gallstones.
Strengthens Cell Walls
Olive oil contains polyphenols which help in building stronger cell walls. It also increases the elasticity of arterial walls, protecting you against various heart conditions.
Reduces Risk of Cancer
Olive oil is said to protect the human body against cancerous growth, especially bowel cancer. Medical research done at the Oxford University has shown positive signs that the acidic content of this oil can prevent the commencement of rectum and bowel cancer. In the UK, bowel cancer is one of the most prevalent forms of cancer and kills almost twenty thousand citizens every year.
Prevents Breast Cancer
A recent research study suggests that hydroxytyrosol, a major component of olive oil may help prevent breast cancer in postmenopausal women.
Lowers Hypertension
A recent research study suggests that a Mediterranean diet comprising of food rich in unsaturated fats (found in olive oil and nuts), nitrite, and nitrate (found in leafy green vegetables) may help protect you from hypertension.